This page lists the quantitative reasoning modules that have been developed by collaborative teams of NIQB faculty from the participating institutions.
Modules can be downloaded from our NEXUS Institute for Quantitative Biology community page on the Quantitative Undergraduate Biology Education and Synthesis (QUBES) platform
https://qubeshub.org/community/groups/niqb
Modules Developed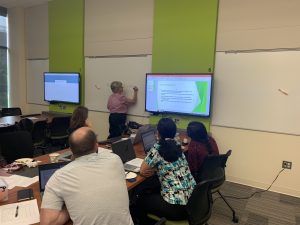 Intro to the Scientific Process (Intro Biology I)
Cell Structure and Size (Intro Biology I)
Solute Concentration and Osmosis (Intro Biology I)
Cell Cycle Mitosis (Intro Biology I)
Cellular Respiration (Intro Biology I)
Enzyme Kinetics (Intro Biology I)
Natural Selection (Intro Biology II)
Hardy-Weinberg (Intro Biology II)
Population Growth (Intro Biology II)
CO2, Climate Change and Stomata (Intro Biology II)
Community Ecology (Intro Biology II)
Gene Linkage and Recombination (Genetics)
Mendelian vs. non-Mendelian Genetics (Genetics)
Human Pedigrees (Genetics)
Enzyme Kinetics I (Cell Biology)
Action Potentials (Cell Biology)
Cytoskeleton (Cell Biology)
Enzyme kinetics II (Cell Biology)
Lysosomes (Cell Biology)
Module Development Resources / Submission
This module template should be used to format the QR modules.  The modules should have clearly defined learning objectives that address both biological topics and quantitative competencies.
Teams should review the module checklist/rubric and the quantitative component rubric (from the Math Team) during the development process.
Modules will be presented and reviewed by the Curricular Awareness Teams, with support from the Math and Faculty Development Teams.  See the Curricular Awareness points of contacts for details.
Please find a summary of the grant, previously developed modules, and other resources at this link for reference.
After implementation of a module, please complete the Module Implementation Questionnaire.
Please work with your institutional PI to upload assessment data for analysis.
Please refer to this Frequently Asked Questions (FAQ) page for details on the module development process.